Templately is one of the largest template libraries with 4000+ stunning templates including 2000+ free to help you create attractive websites easily using Elementor or Gutenberg. You can find templates for almost any type of website and design them without any code. 
You can also access the free website templates with just the Starter plan. But for the best experience with Templately, and to unlock all advanced features including access to PRO templates, you will need the Premium plan.
Difference Between Templately Starter & Premium Plans #
Below you can see the differences between Templately Starter and Premium.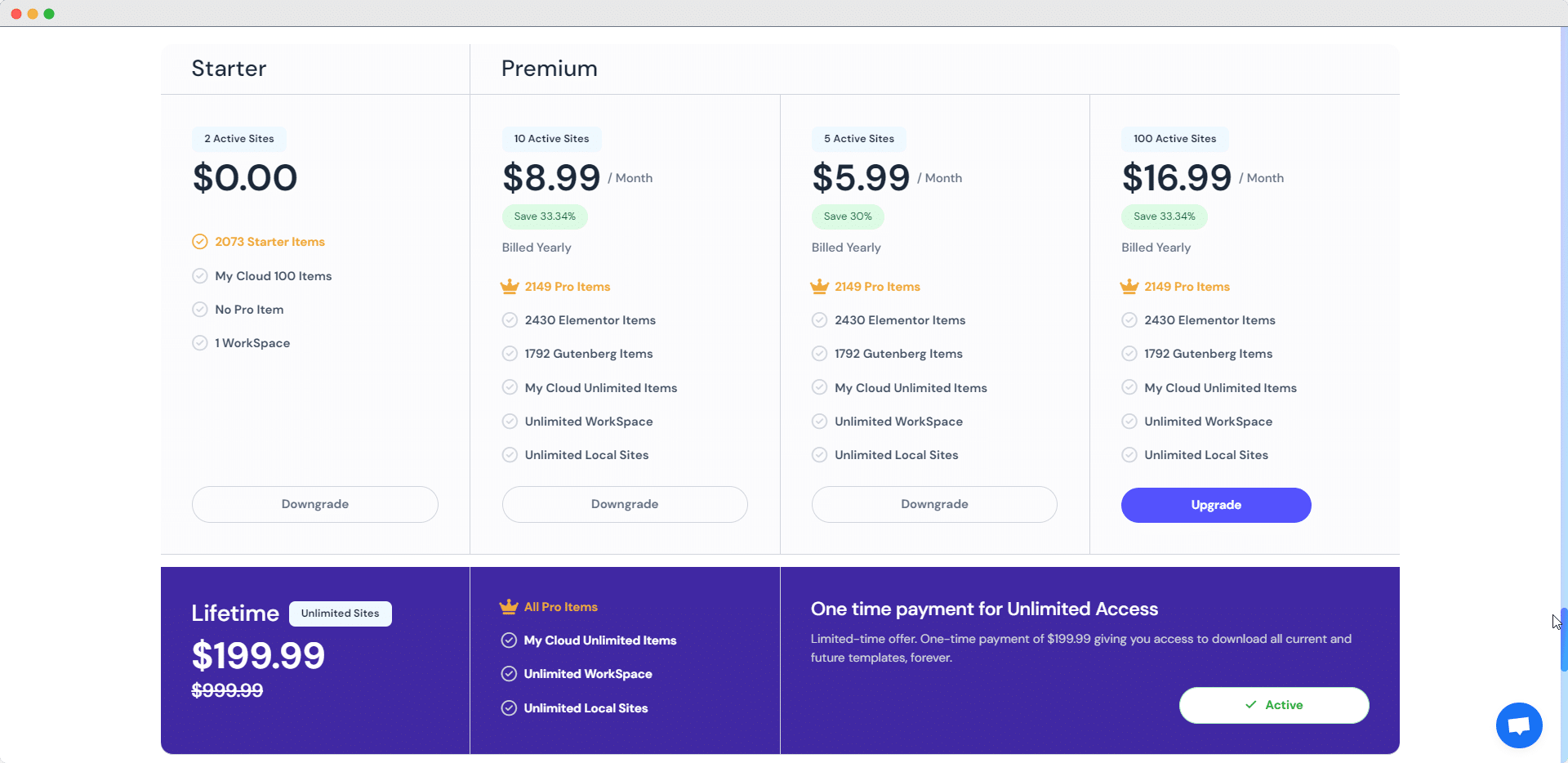 The main differences between Templately Starter and Premium packages are that with the premium subscription plan, you can get access to all PRO website templates. In addition to this, you will also get access to unlimited MyCloud storage space and unlimited WorkSpaces.
With the Starter subscription plan, on the other hand, you can only access and use the free or 'Starter' templates. You will also have access to MyCloud storage space but for a maximum of 100 items. Similarly, you will only be able to create one WorkSpace with the Templately Starter package.
Another difference between Templately Starter and Premium plans is that the Starter plan is completely free at the moment, whereas the Premium plan currently starts from $5.99/Month for 5 sites, $8.99/Month for 10 sites and $16.99/Month for 100 sites.
How To Choose Between Templately Starter And Premium? #
If you're new to Templately, then you can join with the Starter subscription plan and get an idea of what Templately has to offer. It is also a good choice for those with a small team, or if you are running a small business or website. For those who are already familiar with Templately, or for those who want to unlock all exclusive features, you should go for the Premium subscription plan and get access to unlimited storage, WorkSpaces, and exclusive Pro templates. 
For detailed information on how you can easily switch from a free or starter pack to a premium package, check out this documentation here.
Feel free to reach out to our dedicated support team in the event of any difficulties. If you wish to get constant updates about Templately, you can join our Facebook community.