With Templately, now you can easily downgrade your current subscription plan to a smaller plan within a few clicks. If you are using the Premium plan, then you can downgrade to the Starter plan easily. Follow the instructions given below to downgrade your subscription plan.
How To Downgrade Subscription Plan From Premium To Starter? #
Here is a step-by-step guideline to downgrade the current subscription plan from Premium to Starter on Templately. 
Note: The same steps will apply when you want to downgrade from a premium subscription plan to another, smaller subscription plan.
Step 1: Navigate To The 'Subscription' Tab In Templately #
Sign in to your Templately account. Click on your profile and select 'Subscription' from the list of options in the drop-down menu.
Step 2: Click On The 'Downgrade' Button
You will be taken to the 'Subscription' page where you can see all the subscription plans available for Templately. You can also check which plan is currently active as shown below. To downgrade the subscription plan for your Templately account, simply click on the 'Downgrade' button.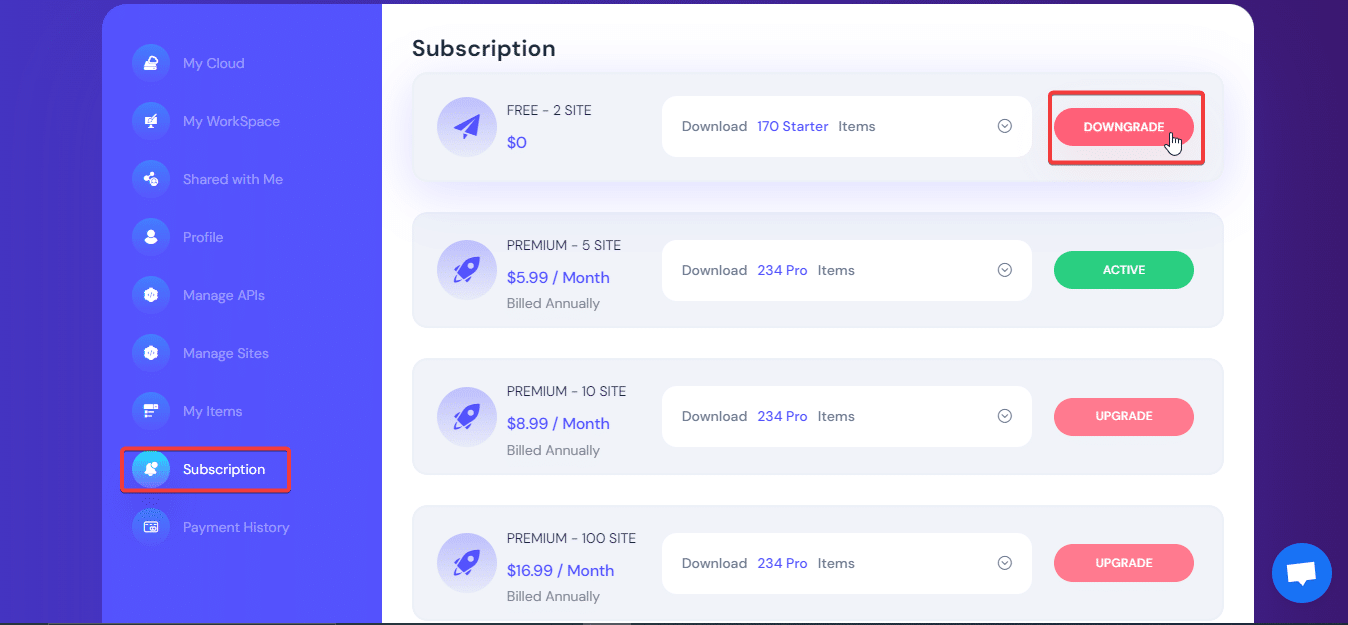 A popup will appear asking for your confirmation.  Click on the 'Downgrade' button, and your Templately plan will be successfully downgraded from Premium to Starter.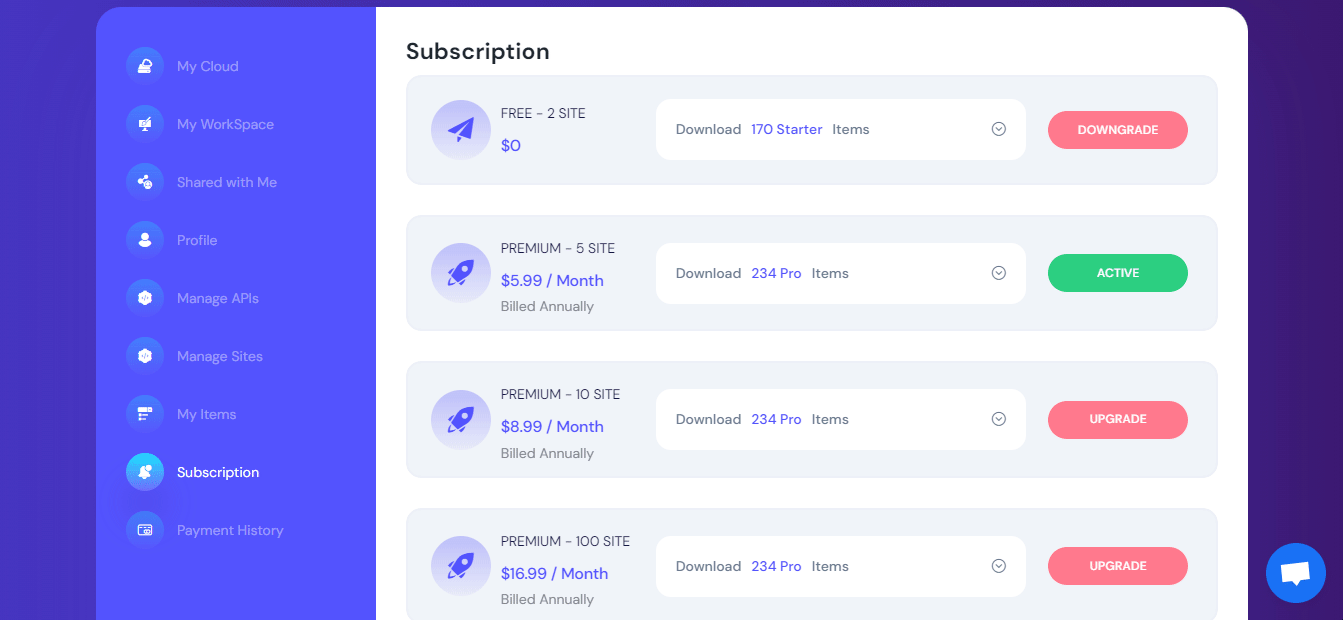 By following these simple steps, you can downgrade your current subscription plan in Templately.
What Will Happen If You Downgrade Your Current Plan? #
If you downgrade your current subscription plan for Templately to any other premium plan or Starter package, you can still continue using Templately, but certain features may be limited. Here are some changes that will occur when you downgrade from the Premium plan to the Starter plan.
All of your previously created

WorkSpaces

will be available on all plans. However, if you downgrade to the Starter plan, you will not be able to create new WorkSpaces.

Each plan offers a specific number of active website access. Once you downgrade, you will have limited access to active websites. However, the Lifetime plan gives you access to unlimited websites.

All premium plans offer an unlimited item-saving feature  in

MyCloud

storage. But if you downgrade to the Starter Pack, you can save up to 100 items. However, if you have already saved more than 100 items while using a premium plan but want to downgrade to the Starter plan, your designs will still be accessible on

MyCloud

.

You will not be able to access upcoming, new Pro templates from

Templately

.
If you want to keep your exclusive Premium plan features, you can upgrade anytime from your Templately account. To learn more on how to easily upgrade your Templately subscription, check out this documentation.
Feel free to reach out to our dedicated support team in the event of any difficulties, and also if you wish to get constant updates about Templately, you can join our Facebook community.